Click to enlarge
Ary Bitter Bronze Art Deco Sculpture Woman Running with Lambs
Item #2762
Ary Bitter was an important French Artist who specialized in animal sculptures and the female form. He created many significant works during the Art Deco period. This unique piece, extremely rare, is stunning, artistic and rendered using the highest quality details and construction. The sculpture depicts a young nubile woman running (most likely in the forest) holding a baby lamb in her arms with an adult lamb running behind her. The quality is spectacular signed in various places on the bronze: Ary Bitter + foundry marks Susse Freres Paris + Cire Perdue (lost wax). The statue is mounted on an original oval-shaped wood base.
What I appreciate most is the sculptor's artist rendering showing the movement, mythology, youth and abandonment of the young woman accompanied by her animals whom she is running away from something while protecting and taking care of lambs. This is a theme repeated in the artist's work depicting the mythology of nature, human form, and the outside world.
We also have another piece by this artist, very interesting depicting Diana the huntress sleeping in the forest as her two greyhound dogs watch over her. You can see that here.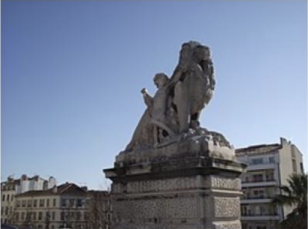 "The world and energy" by Ary Bitter in front of Marseille Saint-Charles train station
Ary Bitter (1883–1973)
An important French artist, best known for his animal sculptures. He was a designer, painter, and sculptor in various mediums including plaster. In 1910, his work "l'Enfant au chevreau" received an "honorable mention" and he carried off the school's "Chenavard" prize. The following year, in 1911, he won the "Lemaire" prize. and a year later, in 1912, he exhibited at the Salon des Artistes Français and was a regular exhibitor there up until 1939. He won a bronze medal at the 1913 Salon and the silver medal at the 1921 Salon. In 1913, he worked on a public fountain in Nantes. In 1921, he was commissioned to work on the Sanary-sur-Merwar memorial as well as those in the Marseille cemeteries of St Louis and St Jérôme. In 1923, he created a "mascot" for Mme Louis Renault's car and 1924 saw him win the gold at that year's Paris Salon The next year he was one of the sculptors featured by the founder Susse Frères in an exhibition at the Boulevard de la Madeleine showroom.
He was in fact commissioned by Susse Frères to work with them on several limited editions.1926 saw his work as part of the decoration of Marseille's St Charles station and the work "Bonne Mère" for the Cathedral. In 1927, he exhibited the work "Chloé allongée" at the Salon and 1931 saw him exhibit a bronze version of "Diane Chasseresse" and in 1932 he was made a "Chevalier de la Légion d'Honneur" and his "Cajolerie" was declared "hors concours" at that year's Salon. In 1935 he showed two works at the Salon, "Léda" and "Le Cygne".
Further honors followed when in 1937 he was awarded a gold medal at the Exposition Internationale des Arts et des Techniques de Paris and he was invited to show work at the "Palais de la Céramique" and the "Palais du Métal". He was also given a "diplôme d'honneur" by the École nationale supérieure des Beaux-Arts. In 1938, he created ten works in terra-cotta for the Musée Hector-Berlioz and in 1940, 3 griffons for a fountain in Pithiviers. In 1949, he worked on the Cambo-les-Bains monument to Edmond Rostand.
Measurements
31″ W x 17,5″ T x 7.5″ D
Price (USD)
$ 8,000