Click to enlarge
Art Deco Sculpture of a Bear by Martel
Item #2764
This highly stylized modernist sculpture of a bronze bear provides a rare opportunity to own a piece by some of the most fascinating sculptors in history. Jan and Joel Martel were an avant-garde team born in Nantes , France. They were identical twins who worked and lived together and had a matched aesthetic that combined abstract cubism with realism and whimsy that produced fanciful interpretations of animals, dancers and musicians . They did small decorative pieces as well as monumental sculptures and fountains, including work for the 1925 Exposition des Arts Decoratifs et Industriels Modernes in Paris and the Olympics of 1948.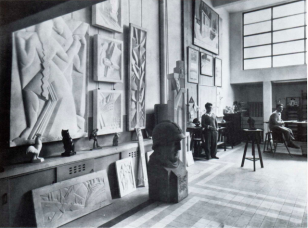 They worked in glass, marble, plaster, aluminum, silver and bronze in a wide variety of finishes and colors.  The bear statue is classically patinated bronze. In many ways, their designs focused on one essential feature of an animal and this sculpture exaggerates the pointed nose and outstretched neck of the bear as its "symbol". The subtle signature on the base is their unique monogram that can also be seen on their letterhead.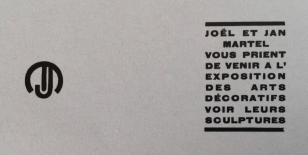 A wealth of photos of the twins, from childhood and throughout their life can be found. Here are just a few: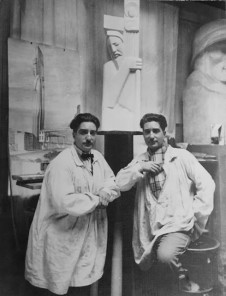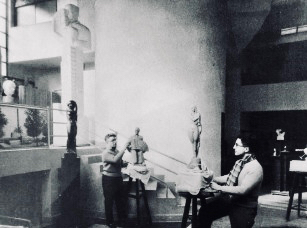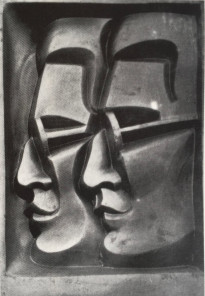 Even their home and studio was emblematic of Art Deco Style, in a dynamic structure design by Robert Mallet-Stevens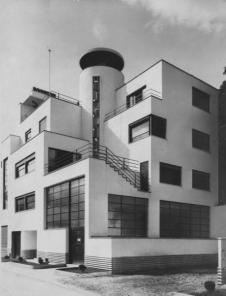 Jan and Joel Martel signed all of their work "Martel", never distinguishing which twin created the work, as it really did not matter. They viewed the world and their artistic pursuits as one. They were born in 1896 and both died in 1966, Jan in an accident and Joel from illness. Their work lives on in many forms.
Measurements
10.5″ tall, 4″ base
Price (USD)
$ 4,800