Click to enlarge
Art Deco Bronze Figure Antoine Vriens Classic 1928 1 of 6 Total
Item #2552 SOLD
Classic 1920′s art deco bronze statue of young female holding bouquet of flowers in draped skirt. Belgian artist Antoine Vriens (1902-1987) known for female statues but also famous for medallions. This is an extremely rare piece of which only 6 copies were made. Signed and numbered on the bronze 1of 6. This piece was also rendered in terra-cotta.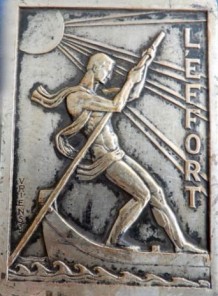 Sculptor, medallist. Nudes
Antoine Vriens
attended the academies in St-Gilles and Brussels after his initial studies at the Athénée Royal in Ostend. He then worked in Alfred Courtens' studio. He was awarded the Prix Godecharle in 1924 and 1927, the Prix de Rome in 1929 and a gold medal at the Exposition Internationale.
Measurements
16″ T x 5.25″ W x 4″ D
Price (USD)
$ Price not available