Click to enlarge
Art Deco Bronze Draped Reclining Woman by Chiparus Darcles
Item #3152
An Art Deco Bronze Sculpture by Chiparus entitled "Nu Allonge" (Reclining Nude) on a marble base.  Created in 1925  and embodying all the stylistic elements of the Deco Era and executed by the master sculptor Demetre Chiparus under one of his seven pseudonyms "Darcles". The period hair style in rolls and curls, the elaborate draping of the fabric creating a fan shaped backdrop and the perfect rendering of her face, hands, feet show the characteristic details that make this an iconic  piece.
The patina is also exceptional, with a delicate shading that makes the skin tones separate from the folds of the fabric as well as the bronze base in contrast to the black marble.
Demetre Chiparus was born in Romania in 1886 and in his early 20s traveled to Italy to study with Rafaello Romanelli and later moved to Paris to study at the Ecole des Beaux Arts.   He is best known for his sculptures of beautiful women  often posed as dancers and he  took inspiration from French and Russian Ballet. He also captured the look of film and theatre stars of the era.  He developed a special technique of mixing ivory elements with bronze called chryselephantine but he worked in many materials in creating his sculptures.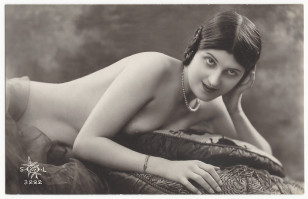 As was prevalent in the 1920s and 30s, Sculptors often used a variety of names (pseudonyms) for their work as this enabled them to work for many different foundries and produce editions in a range of prices -sometimes producing the same design in different materials (plaster, shelter, art metal or bronze) . Chiparus was extremely prolific, working with Etling et cie, Lehman Foundry and others.
Using pseudonyms gave the artist more control over their commissions and profits ,expanding their ability to sell and show their work.
Pieces marked with the name " Darcles "are quite rare and this is an especially spectacular example .
Measurements
32.5″ width including base
13.5″ tall
8.25 Deep
Price (USD)
$ 10,000