Click to enlarge
Silver Knife Rests by Sandoz for Christofle Galia
Item #2558 SOLD
Silver plated knife rests, created by Marcel Eduoard Sandoz are individually cast with twelve different cubist animal forms, a complete boxed set! These miniature sculptures are in pristine condition and were commissioned by Christofle for their "Gallia Line" in the late 1920′s.  Used in the First Class Dining Room of the French Ocean Liner the  S.S. Normandie, it was also made available to the public as an extravagant gift set as displayed here in its original box. The box interior bears the seal of Orfevrerie Gallia and the rooster.
Sandoz is a renowned Swiss designer and sculptor, famous for his larger works in bronze, stone and porcelain. He is considered one of the leading artists working in the Art Deco Style and his career included work in chemistry, physics and invention. Sandoz had a special fascination with animal forms and his guiding  philosophy was that    "Art must include love, nature, and science,"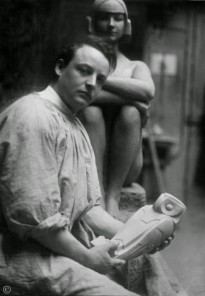 photo  portrait of Eduoardo Sandoz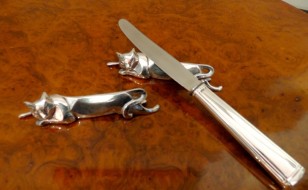 Knife rests are rare in the United States but are "de rigueur" for any formal French table setting. Use them to "rest your knife" (as shown) or simply consider them a special collection of petite sculptures from an important artist.  The name Christofle adds to their value, and the Galia mark further distinguishes them as being from Christofle's most avant garde line.
Measurements
Each one is 1″ tall by 3″ wide
Price (USD)
$ Price not available