Click to enlarge
Karl Palda Art Deco Czech Glass Bud Vase
Item #2751 SOLD
An Art Deco black and etched glass vase by Karl Palda produced in Czechoslovakia in the 1930s.  Small, but stunning, a piece of " jewelry for your home" and a perfect example of the high style that was emblematic of this era of crystal work. The Palda glassworks began in 1888 in Haida, Novy Bor, Bohemia but the period that it is most famous for is 1933-1938 when striking and inventive geometric designs became a departure from the classic two-toned crystal goblets and decanters with floral carved designs. A page from the Palda catalog of 1938 shows the range of products in colorful glass patterns. The full catalog is in the Corning Glass Museum.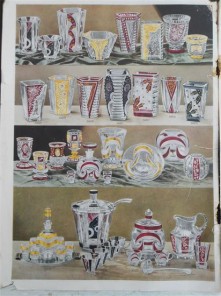 Page  2 of the 1938 Karl Palda Catalogue
from the blog post "Driving for Deco"
The Deco crystal and glass works of Bohemia were so advanced in their designs. Things they produced in the 1920s and 30s were certainly at the forefront of cubism, avant grade and the "Deco" style that France often gets all the credit for…but Czechoslovakia was such an important center for this technique. Of all the designers working in that era, Karl Palda was one of the most inventive and "ahead of his time".
Measurements
10″ T x 2.5″ W x 2.5″ D
Price (USD)
$ Price not available