Click to enlarge
Art Deco French Ceramic Vase Table Lamp by Robert Lallemant
Item #3452
Art Deco French Ceramic Vase Table Lamp by Robert Lallemant (French, 1902–1954). Beige crackle glaze ceramic vase, of cylindrical form and chevron sawtooth edge raised center band, by Robert Lallemant, France 1930s. Signed to underside.
This is a striking original art deco crackled ceramic table or desk lamp attributed to Robert Lallemant with a very beautiful original French glass shade looks fabulous when illuminated, and would be great on a desk, cabinet, or night stand.
Robert Lallemant initially studied at the Ecole des Beaux-Arts in Dijon, he then received an apprenticeship at the atelier of the Art Potter Raoul Lachenal.In 1926 with the financial assistance of his father Lallemant purchased a ceramics factory in Paris. He showed his appreciation to his father for this gesture by including his initial T for Theophile with his own R in the mark on his pieces of ceramics. Robert Lallemant, rather than following the training he received with Lachenal for creating artisan one of a kind pieces he wished to embrace the spirit of his time & therefore moved towards industrial production techniques for his pieces.
Robert Lallemant exhibited his work at the Salon des Artistes Decorators and was also a founding member of the Union Artiste Modernes. He ceased his work as a ceramicist in 1933.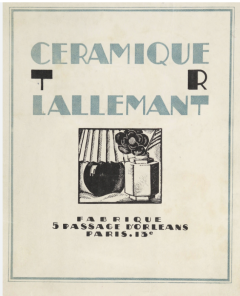 Measurements
Price (USD)
$ 950