Click to enlarge
Adnet French Art Deco Machine Age Art Deco Table Lamp
Item #3194 SOLD
Jacques Adnet French Art Deco Machine Age Art Deco Lamp. Original condition with round crystal sphere making up the stem, fluted metal work and cubist glass base utilizing machine age  nickel plated shade and base. A unique table lamp design circa the 1930s accompanied by a metal reflector. New wiring with original vintage on/off switch and  converted to US plug, has been fitted with a perfect LED light bulb..
Jacques Adnet (1900–1984)
One of the most elegant and innovative 20th-century French furniture designers, Jacques Adnet created a simple, unadorned signature style that is both trim and vigorous. He began his career in the heyday of the Art Deco era, and in the 1950s, in association with Hermès, created chairs, lamps, desks, and other pieces that employed slender metal frames clad in stitched saddle leather. With such furnishings, Adnet brought a fashion sensibility to design and decor that had not been seen since the 1920s prime of the great Paris couturier-decorator Paul Poiret.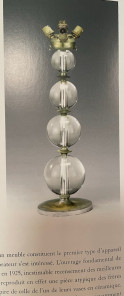 Measurements
Price (USD)
$ Price not available