Click to enlarge
Art Deco " Wedding Cake" Chandelier
Item #2156 SOLD
A delicious Art Deco " Wedding Cake" Chandelier, the classic graduated and  tiered design in milky white glass with lovely details in the moulded glass and featuring an exceptionally stylish finial and canopy !
The chain is of great original quality as well, and it is possible to hang it at it's full length, or shorten the chain for
use closer to the ceiling.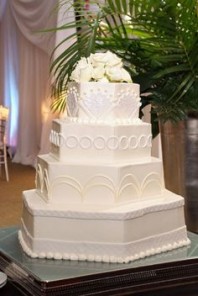 you can see why they call the style "wedding cake" design !
Measurements
Length 44″ (including chain) or 28″ from top of finial to bottom of glass
Price (USD)
$ Price not available