Click to enlarge
Hollywood Regency Art Deco Fan Backed Chairs
Item #3301
A pair of  channel  fan backed chairs upholstered in brocade in a style that is a combination of Art Deco and Hollywood Regency.  The cream and aqua brocade are the same pattern done in two color ways with a sweep of the cream that cascades from the back to the front of the chair. The chairs are  refurbished with the re-use of the original fabric,  newly sprung for comfort mixed with glamour.
Hollywood Regency is a style that literally came from the cinema- it was the Hollywood designers working in the movie industry that took a 19th Century point of view, full of luxurious materials and opulence and reinterpreted them for the movie sets of the 20s,30s and 40s. The movie stars that appeared in those films often chose to adopt that same luxe style for their own homes and so the "Hollywood Regency" style was born.
Today that style is enjoying a revival as people discover the furnishings that add a bit of voluptuous luxury to their environment. Curved forms, satins and silks, tufted , pleated and quilted surfaces, lines that undulate from high to low.  The pair of chairs we offer will turn a bedroom into a boudoir, your living room into a salon !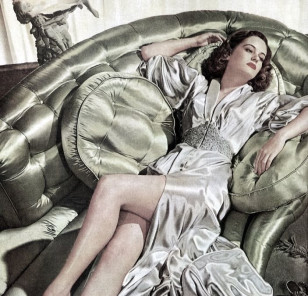 Examples of "Hollywood Regency Style"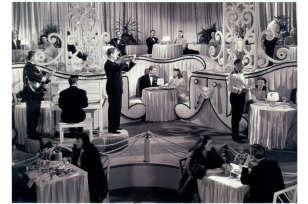 Measurements
33″ width
33″. depth
31″. tallest point
21″. foreground to seat
Price (USD)
$ 7,500