Click to enlarge
Original Philco Radio Bar Restored and Complete Glassware and Bluetooth
Item #3379 SOLD
Art Deco Philco Radio Bar is one of the most highly sought-after pieces by radio and bar enthusiasts. Created initially during the Prohibition Era – a time of fascination with hidden and secret liquor bars, it reached a high point with its 1936 design.  All the pieces  (glassware in many sizes, decanters, cocktail shakers, and accessories) fill this radio bar we are very proud to offer. Radio Bar of America, made in Los Angeles California USA. There were many versions made, this is known as model #536 from about 1936.
We have now taken it to the next level, completely restored inside and out so it is like new but about 90 years old. It was only adding Bluetooth or input so you can use it today with smartphones and all the latest technology. his radio chassis has been tested, restored, and fitted with a 1/8 inch adapter which will allow you to use this with your iPhone, smartphone, iPod, or record player. Access your old vinyl, or tune into Pandora, Apple Music, or the playlist on your computer to provide the tunes, and use the Bluetooth connection to bring the warm, bright, analog sound of a tube amplifier to any music or recordings you choose. The quality of the sound is excellent – just ask any guitarist since these kinds of tube-based amps are still being made and used today. You will have the best of "digital" and "analog" combined.
A Radio Bar was the equivalent of a high-end entertainment center today. Thoroughly popular and not the least bit inexpensive!  To put it in perspective… a Philco Radio Bar was priced at $89 – $795, and an average salary was $1748 in 1936. An average home was $3600 and a Studebaker car was $665. So this was the height of fashion and indulgence.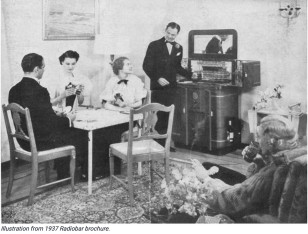 In addition to the high-style design and the uniquely amusing combination of a radio and a bar, the Radiobar is featured in so many movies of the period as a kind of iconic symbol of luxury. You ll find it in the Bogart/ Cagney film "Angels with Dirty Faces" and taking center stage in" Gold Diggers of 1933″ when Joan Blondell and Warren Williams meet in her stylish Art Deco Flat. Catch another glimpse of it in the  1935 Alfred Hitchcock thriller "39 Steps" with Robert Donat.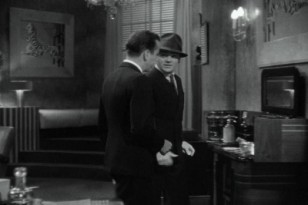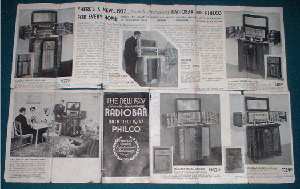 Measurements
48″ T x 33″ W x 17″ D closed
63″ T x 60″ W x 17″ D open
Price (USD)
$ Price not available