Click to enlarge
Pierrot French Art Deco Sculpture Clock on Marble Base
Item #2540 SOLD
A classic romantic French Art Deco Clock with the iconic lovers Pierrot et Pierrette in a sculpture atop an extravagantly inlayed marble base. This is a "garniture de chemise", a piece intended for a special place on a mantle piece. The clock has an eight day wind up movement that strikes a bell on the hour and half hour with a face embellished in a poly chromed brass floral motif.
Even more stunning than the clock is the sculpture that graces the top. Pierrot and Pierrette/Harlequin and Columbine are legendary star crossed figures of comedy and tragedy that date back hundreds of years but were especially popular in the 1920s when instead of sad tales of unrequited love they were portrayed as dancers in passionate embrace.
The subtle tones of the patina in this lovely sculpture in which his costume has a pale green cast and hers is washed in gold gives extra dimension to the way the figures are rendered. All of this is best on an amazing base with three types of rare, patterned tri color marble cut with inlayed circle and diamond shapes.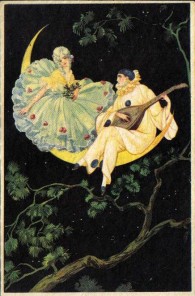 There are hundreds of images of Pierrot and Pierrette throughout history
 and those from the 1920′s are especially charming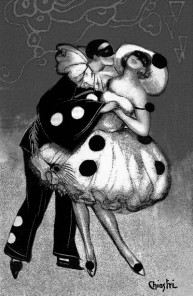 Measurements
21″ Tall, 13″ wide, 4.5″ deep
Price (USD)
$ Price not available