Click to enlarge
French Art Deco Bronze Elephant Sculptures on Marble with Clock and Garnitures
Item #2757 SOLD
A spectacular Art Deco sculpture clock by Reveipolis of France in which every aspect is rendered with breathtaking detail.  Beginning with the tri-color marble base and construct that is so well done with a fluted pale green topped with an amber rust marble cap.  Then there are bronze appliqués in geometric pyramid patterns that embellish the marble to create another dimension. But more than anything, it is the elephants- the full bronze sculptures standing on either side with trunks and tusks raised as a symbol of good luck and the majestic relief sculptures of the elephant heads that make this such an outstanding work of art. The "garnitures" are two additional side pieces. Their primary function is simply to be decorative so that should the clock be placed on a mantle, more horizontal space can be filled by its presence
The quality of the work is evocative of the work of Demetre Chiparus, though the piece is not signed by the sculptor, only the creator of the entire piece: Reveipolis. The company Reveipolis is known for beautiful Art Nouveau and Art Deco clocks that combined bronze, brass, marble and sculpture and this has to be one of the most elaborate ever done.
United Palace Movie Theater
It is reminiscent of the "over the top" Movie Palaces of the 1920s which blended elements of many textures and cultures in rich ornamentation. The United Palace Theater in New York, for example,  has been described as "Byzantine- Romanesque -Indo -HIndu-Sino- Moorish -Persian- Eclectic Rococo DECO", and that is a perfect way to describe this clock-sculpture and garnitures.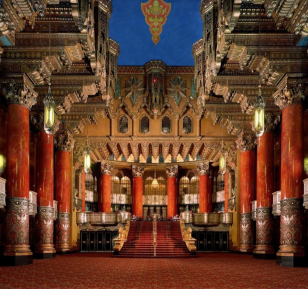 Other Movie Palaces that share this unique aesthetic would be the fabulous Fox Theater in St.Louis and the Tuschinski Theater in Amsterdam.
Tuschinski Theater Amsterdam
Measurements
Clock: 22″ W x 15.5″ T x 6.5″ D
Garnitures: 5.5″ W x 12.25″ T x4.5″ D x 2
Price (USD)
$ Price not available