Click to enlarge
Pair of Art Deco Ceramic Vases by Eva Zeisel
Item #2252 SOLD
This pair of Moderne vases were designed by Eva Zeisel, one of the most fascinating  ceramicists of the past century. She began her career at a young age in Hungary, then rose to great  popularity during her tenure in Germany  at the Schramberg ceramic works in the late 1920s and early 1930s with her avant grade pieces.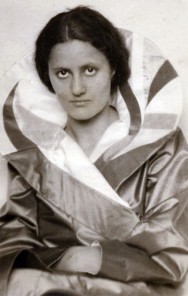 (photo of Eva Zeisel in a dress she designed with a pattern
much like the decorative work on her pottery)
 As Eva was Hungarian and Jewish she had to escape Nazism by finding work in Russia however she was wrongly accused of being part of a plot to assassinate Stalin and imprisioned for 16 months (12 months in solitary confinement). Her experience is the basis for the novel "Heart of Darkness". Miraculously she was able to escape Russia and did her craft briefly in Vienna, but ultimately emigrated to the United States . She designed ceramics, china, tableware and glassware for many top American companies  and is most well known for her iconic line of tableware commissioned by the Museum of Modern Art in 1946…which  is still being produced and sold in stores today ! Eva Zeisel continued to design and produce dinnerware and "useful objects" until her death  in 2011 at age 105 years old!
These vases we are offering for sale are  from her "Gobelin lLne" at Schramberg are hand painted in bold colors  influenced by Bauhaus designers she admired. They are among the most highly collectible of her tremendous body of work. They are marked SMF, Schramsberg, Gobelin 57 (which is not the year…it is the style number. the date is 1928-1930 )
Measurements
Price (USD)
$ Price not available