Click to enlarge
Art Deco Czech Decanter Set by Palda
Item #2318 SOLD
Art Deco Czech Decanter and glasses  with ebony and mirrored designs on heavy crystal by Karl Palda.  Unusual slanted decanter with great modernist embellishment of cross hatch, stars and mirrored circles also includes six  glasses from the late 1920s.
This is the perfect cocktail set for this election season.
Why ? (you may ask ). Is it because we really need a stiff drink to endure all the political manipulation and media coverage?  Well, yes, that. Certainly.
And also because this charming decanter  can be "right leaning" or "left leaning" … your choice, just turn it around!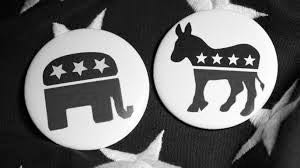 Measurements
12″ T x 6″ W x 3″ D decanter
2.5″ T x 2.5″ W x 1.5″ D glasses
Price (USD)
$ Price not available