Click to enlarge
Boch Freres Charles Catteau Animal Stoneware Primitive Vase Art Deco
Item #3024 SOLD
Art Deco Gres Keramis stoneware vase designed by Charles Catteau for Boch Freres of Belgium circa 1925. These animal designs are the most sought after and most collectible of all the Catteau pieces.  Stoneware pieces with animal motifs are even more difficult to find and extremely rare. Over the years whenever I have seen a decorative item whether glass, ceramic, stoneware, or lighting, designs with animals are always the most highly sought after. There appears to be a special signature on the bottom (maybe from the designer in addition to Catteau) but is hard to read.  A Rare and great advanced collector piece.
This model is illustrated in the book "Art Deco Ceramics, Charles Catteau" by Marc Pairon (page 481) "L'homme de Keramis" Charles Catteau by Dominique Corrieras "Catteau", donation Claire de Pauw, Marcel Stal. 
"Art Deco Keramik" by Norbert and Georgette Poulain. Exhibition 1981.
Catteau was considered the master of Art Deco Design, and his work predates the explosion of the style in the 1920s. He was trained in the famous ceramics school in Sevres, France and then in 1906 hired by Boch Pottery a venerable company in business since the mid-1800s but looking for a fresh direction.
He was featured in the Paris Exposition of Artes Decorative in 1925, by then creating hundreds of pieces every year with distinctive shapes and forms.  A team of artists worked with him, applying the pigments to his designs that merged geometric and floral embellishment. In the past twenty years, many books, publications and exhibitions have highlighted the major accomplishments of Charles Catteau.
 Vitrine display case in the Belgium Pavillion at the Paris 1925 Exposition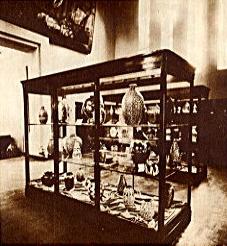 Measurements
12.5″ T x 7.5″ W x 7.5″ D
Price (USD)
$ Price not available