Click to enlarge
Catteau Boch Geometric Modernists Boch Frères Pair Vase
Item #2103 SOLD
Charles Catteau with hexagon shapped vase. Classic modernist design with dynamic colors of turquoise and blue portray intersecting lines and triangles.  This shape is seen throughout the works of Catteau and the form lends itself to so many great designs.  Included on our site are a couple of additional treatments  as well 1622 and also 2045 (click on the numbers to see them).
As you have always heard to find a matching pair is quite unusual and here is a chance to do just that. This treatment has been very well represented in our current show at the SFO airport  Museum.
About Catteau & Boch Frères circa 1925!
The Belgian firm Boch Frères Keramis made large quantities of distinctive ceramics with slip-cast bodies and eye-catching, hand-painted decoration. The wares were also sold internationally in scores at fashionable galleries and department stores. The firm employed many French-trained artists, most notably Franco-Belgian Charles Catteau. In 1907, at age twenty-seven, he became the head of the decoration department at Boch Frères Keramis. Catteau obtained international recognition at the Paris Exposition of 1925 (Exposition Internationale des Arts Décoratifs Industriels et Modernes).
Here is the entrance for the Belgian Pavilion 1925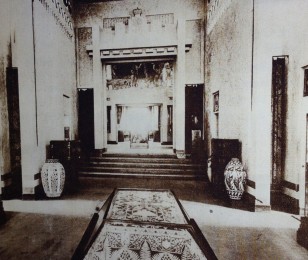 Measurements
Height 9.5 inches
Width 6.5 inches
Price (USD)
$ Price not available