Click to enlarge
Boch Ceramic Vase in Art Deco Pattern
Item #2294 SOLD
Delightful Modernist Art Deco Vase from the venerable company, Boch Freres of Belgium. Boch ceramic history dates back to the early 1800s, but we think the most notable era was the 1920s-1940s when the company flourished under the visionary directorship of Charles Catteau.  Having won many medals at the Paris Exposition des Artes Decorative in 1925 for the use of "ceramic cloisonne" and bright colors and geometric and abstract floral design became the hallmark of the Boch company.  Catteau certainlhy led the company to do its best work.
This round vase with its stylized leaf pattern and the "cross hatch" marks that give it a playful look also has great markings on the bottom. In addition to the Boch Freres (Boch Brothers) name , the location of the factory in La Louviere is also stamped.
La Louviere is an ancient city within Belgium  (La Louviere means "the wolf") and it holds an annual faire at which many of its products are exhibited and sold, along with a spirit of pre-lent revelry.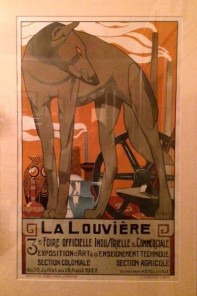 This poster from 1927 shows a nice example of pottery in the background
being guarded by the wolf, the mascot of the town.
Measurements
8.5″ tall, 8.5″ diameter
Price (USD)
$ Price not available