Click to enlarge
Hagenauer Wein Modernist Sculpture Josephine Baker
Item #3028 SOLD
Karl Hagenauer (Austrian, 1898-1956) statue depicting the dancer Josephine Baker, cast brass in chrome finish, circa the 1930s. Stamped ATELIER HAGENAUER WIEN, MADE IN AUSTRIA with WHW. Much of the work comes from "Werkstatte Hagenauer of Wien". This is not your typical Hagenauer design, the size is very large 11.5″ T, and the treatment is very unique even for Hagenauer designs. This statue is seen in many combinations: all brass, silver and wood, silver and copper.
 A rare publication of the Hagenauer Werkstatte
The Hagenauer firm was founded by Carl Hagenauer in Austria, 1898. His son Karl headed the company for some time, studied under Joseph Hoffman, and won bronze and silver medals at the Paris Exposition of 1925.
Josephine Baker (born Freda Josephine McDonald, naturalized French Joséphine Baker; 3 June 1906 – 12 April 1975) was an American-born French entertainer, French Resistance agent, and civil rights, activist. Her career was centered primarily in Europe, mostly in her adopted France. Baker was the first African-American to star in a major motion picture, the 1927 silent film Siren of the Tropics, directed by Mario Nalpas and Henri Étiévant. During her early career, Baker was renowned as a dancer and was among the most celebrated performers to headline the revues of the Folies Bergère in Paris. Her performance in the revue Un vent de folie in 1927 caused a sensation in Paris. Her costume, consisting of only a short skirt of artificial bananas and a beaded necklace, became an iconic image and a symbol of the Jazz Age and the 1920s.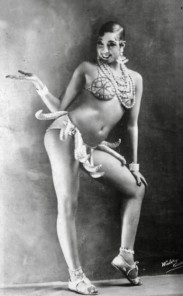 Measurements
11.75″ t x 7″ D x 4″ W
Price (USD)
$ Price not available