Click to enlarge
Fish Themed Wood Carved Art Deco Sculpture
Item #2615
Deeply carved relief Art Deco Sculpture of  fish intertwined with seaweed.  During the Deco era, art forms created in Europe  often drew upon the arts and crafts techniques of the colonies. This piece from Belgium may have been inspired by or even created in the Belgian Congo and has a hint of  African style.
Rendered in rich, polished wood what makes this piece somewhat unusual is that it is asymmetrical and lyrical . There is a sense of movement in the way the fish and foliage "interact".
Relief sculptures were popular ways to embellish both interior and exterior architecture in the 1920s and 1930s. And images of animals and sea creatures were often used.  Here is an example from the famous Chanin Building of New York showing such a theme: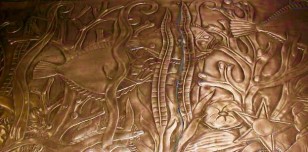 so while it is not possible to take home a piece of the "Chanin", you might consider a carved wooden panel of fish and foliage like the one we offer!
Measurements
22″ W x 18″ T
Price (USD)
$ 1,600