Click to enlarge
Bronze Statue of Gloire, a Woman in Tribute by Jules Bernaerts
Item #2990 SOLD
The bronze  "Gloire" is a statue by Jules Bernaerts based on his full-scale Monument des Fusiliers Marins Francais done in 1934 as a tribute to the French riflemen Marines of WWl who defended the region of Melle. It is part of a structure built by architect Willy Van Hove, and while the sculpture has a distinctly fluid, Art Nouveau feeling referencing the era of the war years,  it is set upon a structure with a gilded inscription done in a streamlined, moderne style.
The bronze" Gloire" we are offering for sale is a  striking, powerful and beautiful rendition of that grand statue with a dappled patina, mounted on a marble base.
Jules Bernaerts was born in 1882 Maldives, Belgium. He studied at the Acadamie de Bruxelles, exhibited at the 1903 Salon Triennial des Beaux-Arts. He worked in Belgium until 1914 when he took up residence in England. He is known for his female nude sculptures and for his life-size monumental public statuary.
Here are images of the monument in Melle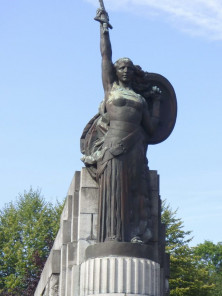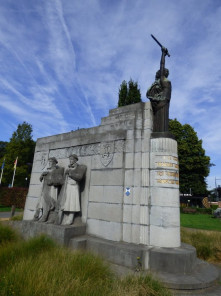 This is the inscription on the monument- written in French
Comme la mer qui chantait dans leurs âmes,
Ils furent grands avec simplicité
En défendant ici leur patrie et la nôtre
Leurs cendres parmi nous ne sont pas en exil.
 And the translation:
Like the sea that sang in their souls,
They were grand with simplicity
Defending here their homeland and ours
Their ashes among us are not in exile
Price (USD)
$ Price not available