Click to enlarge
Art Deco Danish Sandstone Ceramic Sculpture of a Merman by Just Andersen
Item #2519
Monumental  ceramic or sandstone sculpture of a Merman by Just Andersen (Danish, 1884-1943). circa1940  ceramic material, most likely stoneware with a texture (quite heavy), made in Denmark. It is in excellent original condition reminiscent of important works depicting figurative, fountains, mythology and fantasy. This particular piece has great art deco detailing,: the scales of the fish, the stylized hair, the webbed hands all features engaged while the merman rides deep into the Atlantic.
Just Andersen was born in Greenland, studying at the Royal Academy in Copenhagen in 1910 and the School of Danish Crafts at 1912 under Jens Moller Jensen. In his early career, Andersen designed for Georg Jensen, A. Michelsen, and P. Hertz, later opening  Just Andersen Pewter in 1918 after being inspired by silversmiths with whom he worked.
He is most known for his neoclassical design of everyday items, like candlesticks and vases, in pewter, brass, copper, bronze, and Disko (an allow of lead and antimony, Andersen's own invention and named after the bay in Greenland where he grew up). Just Andersen had showrooms in Berlin, Brussels, London, Los Angeles, and New York. During the last years of his life, Andersen began working with sandstone, forgoing metal for the war effort.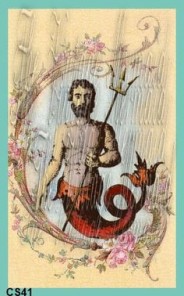 Measurements
16″ W x 14″ T x 8″ D
Price (USD)
$ 9,500