Click to enlarge
Art Deco Bronze Sculpture of a Cubist Style Fish by Edouard Marcel Sandoz, 1920 French
Item #3022
Bronze cubist fish figurine, circa 1920, finished in original verdigris patinated bronze. Signed on the sides of both edges edge, E.M. Sandoz also with "S. Freres" signature as well and mounted on a green marble base. Sandoz with his deep body of work, specialing in animals, this fun and unusual bronze gives a rather lyrical point of view you could expect from Sandoz. The piece with a "deep-sea creature" look on its face, certainly has personality!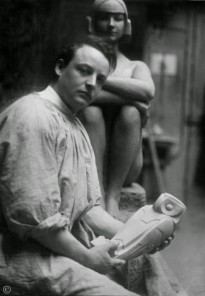 Sandoz of Switzerland was most famous as a sculptor of animals. His work is very sought after, very collectible, and extremely rare. He worked from the Art Nouveau period, through Cubism and Art Deco. He lived life from 1891 -1971 and was part of the famous Sandoz family. In addition to so much recognition for his work, known for bronze, porcelain, silver, he also worked with Christofle and developed highly collectible pieces from the Galia collection. He was the son of a very successful businessman and was able to use his family resources which certainly supported many of his creative endeavors.
Literature: Great book on Edouard Marcel Sandoz, showing the depth of his work by Félix Marcialac, Edition de l'amateur.
Measurements
9″ T x 4″ D 3″ W (on marble)
Price (USD)
$ 4,500