Click to enlarge
Art Deco Bronze Sculpture Male Nude Archer Hercules Victor Demanet 1925
Item #2770
Art Deco Bronze Sculpture Male Nude Archer 'Hercules' by Victor Demanet 1925. Superior quality bronze with wonderful dark black patina. A dynamic male figure representing strength and power. The title of this work is' Hercules' signed by Victor Demanet, a Belgian artist. Demanet is known for these stylized strong male figures, represented in many other models. This may be the most famous. It was offered in two sizes and this is the biggest size. Perfect signature in the base.
Medallion designed by Victor Damanet
Belgian sculptor Victor Demanet studied fine art at Namur before serving in the Army. Inspired by a visit to Paris in 1921, he resumed working in sculpture. Demanet produced mostly large-scale sculpture and medals, worked for public and private patrons, and exhibited internationally. He regularly participated in the Salon des Artistes Français, of which he was a member. Demanet entered three Olympic Games, those of 1924, 1932, and 1936.
1908 Print Hercules Stymphalos Harpies Archer 
Bow Quiver   Albrecht Durer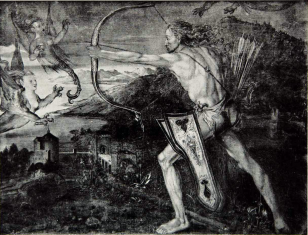 Measurements
24″ T x 27.5″ W x 7.88″ D
Price (USD)
$ 6,200