Click to enlarge
The Lion of Judah 800 Silver Statue by Artist Dejene from Addis Ababa
Item #3025 SOLD
A silver statue called "The Lion of Judah"! Purchased in Israel, signed by the artist K. Dejene based on a larger public sculpture in Addis Ababa, Ethiopia. For all you historians, the monument was erected during the reign of Emperor Haile Selassie 1 the last King of the historic Solomonic Dynasty (Emperor of Ethiopia from 1930 to 1974, and Regent Plenipotentiary of Ethiopia from 1916).
It is one of the historical monuments in Addis Ababa where visitors can learn the background of the long history of Ethiopia as "Lion" was the national emblem of the Solomonic Dynasty (started with Menelik I in the 9th Century BC and ended in 1974).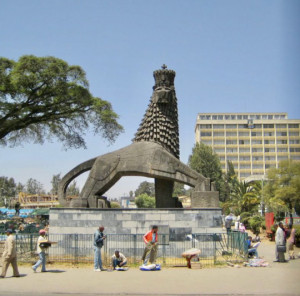 w
This is not a tourist souvenir piece but a high-quality 800 silver statue that was used as a gift for diplomats and important VIPs who visited the country. It is also said that John Kennedy was given one when he visited the country. It was done in the 1950-the 60s but has a real Art Deco look with all kinds of stepped up and geometrical design treatments all related to the Art Deco era.
Measurements
7" W x 7.5" T x 2.75" D
Price (USD)
$ Price not available