Click to enlarge
Art Deco Silvered Bronze Sculpture of Dancing Duo by I.Gallo
Item #2527 SOLD
Ignacio Gallo was born in Valladolid, Spain in the 19th century. He worked from 1910 – 1935 specialising in statuettes of bathers, dancers, nudes and pagan goddesses. While working in Paris in the mid to late 1920s he created this  piece of two women dancing. Unlike a nude sculpture, this gives us a glimpse of the era with the fashionable bobbed hairdo, and the shortened skirt.
The 1920′s "Jazz Age" saw a great deal of same sex dancing partners… some of it romantic but more often just the popularity of both social dance and "artistic" (think Isadora Duncan) as well as "cabaret" performance.  This lively sculpture is a nod to all three forms.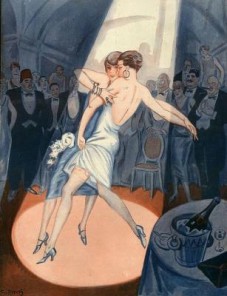 Ignacio Gallo's  creations in bronze were made at the Marcel Guillemard Foundry which has an interesting history of its own. Guillemard worked first with Andre Fau in the early 20s until they ended their partnership in 1926 at which time he received financial infusion from the Etling Foundry and continue to work with Etling that also produced the work of Bouraine, Le Faguays, Colinet and Chiparus.  Clearly, Ignacio Gallo was in "good company" with these notable sculptors and two of the finest foundries in France.
Guillemard  was also  the chief of design and decor for Primavera, the stylish shops of the French Department Store Printemps. He also had an important role at the 1925 Paris Exposition des Arts Decorative and the Gallo sculpture was completed in that era and in the style of work that was featured at the Exposition.
Measurements
17.5 " tall
14.5″ wide
Price (USD)
$ Price not available