Click to enlarge
Silver Centerpiece with Eagles by WMF
Item #2461 SOLD
Elegant Art Nouveau silver plated centerpiece coupe can be used for fruit, flowers or cake or simply left alone to be admired for its sculptural quality. Stylized eagles with spread wings form a beautiful design detail, but look closely at the decorative treatment of the entire piece. A wonderful pattern of diamonds and circles embellishes the foot and the border and the circular motif has a somewhat Aztec influence.
This is German Silver at its high point, done between 1906 and 1920  by the "WMF" company which specialized in exportation of popular forms of household silver accessories throughout the world. This example is unusual , though it pairs well with another piece we are offering at this time and also from the same period. Both pieces are documented in the 1904 Catalogue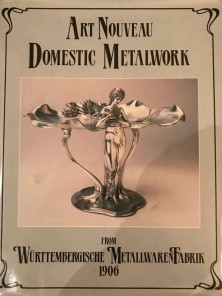 ABOUT WMF
WMF stands for the full name , the  Wurttembergische Metallwarenfabrik. a German company that was the most important exporter of household decorative silver table ware during  the early part of the 20th Century. WMF pieces cannot be attributed to an individual designer as the company was quite large and employed many artists during their Jugendstil period, however the  era of Albert Mayer, sculptor and designer and the director of the WMF Studio from 1884 until 1914 is considered the high point of its creativity.  In 1900 WMF acquired Albert Koheler's famous Austrian metalwork company AK& Cie who produced and distributed WMF items under their mark to the Austrian-Hungarian market until 1914.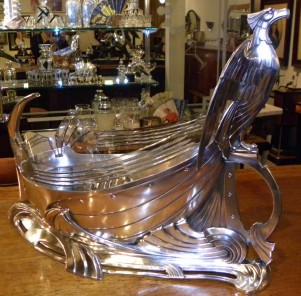 View this additional piece of WMF on our website
Measurements
5″ tall
12″ wide (diameter)
Price (USD)
$ Price not available