Click to enlarge
Complete Art Deco Silverware Service by Plata Lappas in Cabinet
Item #2723 SOLD
 A complete set of silver service for 12 in an Art Deco Cabinet from the famous silversmiths at Plata Lappas. Nothing is as elegant as heavily plated silverware in fitted drawers of a custom  cabinet designed to hold each piece.  Argentine in origin and French in tradition this hails from an era when people often used the term "rich as an Argentine".   From the turn of the century through the 1930s, the influx of wealthy Europeans brought their traditional styles of silver and china and you can see that a "place setting" was comprised of a very formal eleven pieces along with very grand serving pieces as well. 
The pattern is elegant and streamlined as is the cabinet that houses the pieces so beautifully with a glass front for display  fine woodwork and velvet lined drawers.  The silverware was  made with the highest content of Nickel, and a quadruple Silver Bath plating process that exceeds things found the world over.  "Argent" is the word for silver…so of course one would expect the silver in Argent-ina to be of the very best quality!
The walnut  cabinet with its "book matched" veneer and rich wood finish make this  a highly collectible and very useful .
You really must appreciate all the varied pieces!
12 dinner knives,  12 dinner forks
12 luncheon knives, 12  luncheon knives
12 dessert knives,  12 pastry/salad forks
12 fish knives, 12 fish forks
12 service spoons, 12 table spoons, 12 soup spoons 12 tea spoons, 12 demitasse spoons
Serving Pieces:
1 very large soup or stew ladle
1 gravy ladle,
salad serving set ( 1 spoon and  1 fork)
fish serving set  ( 1 fork and  1 knife)
 meat carving set ( 1 fork and  1knife)
TOTAL:  164 Pieces
Every item bears the stamped mark of Plata Lappas.
Plata Lappas is a venerable company, having been founded in Buenos Aires in 1887 and still producing fine silver products today . Over the last century, Plata Lappas silver has been distributed through highly regarded stores Internationally and found in foreign embassies and top hotels, the finest homes and famed locations. The set we offer here is an heirloom, kept for many years with great care and worthy of being part of your family tradition now.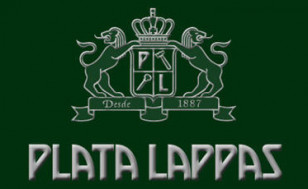 Measurements
30 " wide
18″ deep
32.5 inches tall
Price (USD)
$ Price not available