Click to enlarge
Christofle Art Deco Silverware Set in Wooden Chest
Item #2403 SOLD
This Art Deco Silver Set by Christofle in the pattern "Printania" was designed in 1925 and while it  is an heirloom that harkens back to the jazz age of the 20′s it is as fresh and contemporary as something designed today with its clean lines and restrained ornamentation. The collection includes 138 pieces, housed in a richly restored wooden box accented with gleaming chrome hardware and luxurious black velvet lining. When you feel the delicate, balanced flatware in your hand you will never want to eat with "stainless steel" again!
Included in the set are 12 each of the following pieces: Dinner Forks, Dinner Knives, Luncheon (or salad) Forks, Luncheon Knives, Large Spoons, Soup Spoons, Teaspoons, Dessert Spoons, Demitasse Spoons and Fish Forks and Knives. There are six lovely serving pieces and a very large ladle, all of it in the heavy silver plating that sets Christofle apart.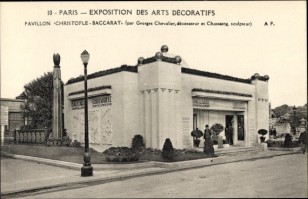 Christofle and Baccarat Pavilion 1925 Paris Exposition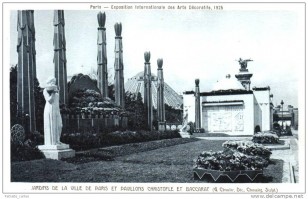 Christofle Gardens and Pavillion at the Paris Exposition 
Maison Christofle began in Normandie, France in  1830 and when it was about to reach it's centennial, it forged ahead with designs that were notably modern, employing designers such as Christian Fjerdingstadt , the Danish artist credited with bringing the company into the Art Deco Period. Exhibiting at the prestigious Paris Exposition des Artes Decoratifs in a beautiful pavillion and garden it shared with Baccarat made the name Christofle known around the world. It maintains stores and sales internationally today.
Measurements
Chest is 21.5″ wide
11″ tall
15.5″ deeo
Three drawers and top display area included
Price (USD)
$ Price not available