Click to enlarge
Art Deco Silverplate Set in Streamline Box
Item #2817 SOLD
A set of Community Silver-plate silver service for 12 in a streamlined wooden chest. This set is in the Friendship/Medality Pattern from 1932 that features a very geometric design with hints of the Arts and Crafts sensibility. In addition to the knives, forks and spoons there are serving pieces- six large serving spoons and a beautiful serving fork plus sugar shells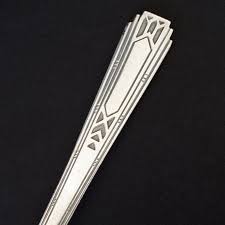 The Oneida Community began making silverware in 1877, but it was in the 1920s-1950s that so many very Art Deco Patterns were created and heavily marketed to American brides as their silverware of choice.
Advertisements by important illustrators such as this one by Coles Phillips amplified their stylish point of view and this type of triple plated silver became immensely popular.
The silver chest in two toned woods with a lucite base  is most unusual and echoes the furniture design of the era.
We feature many luxurious  sets of French, German and Italian silverware at ArtDecoCollection.com that are of "heirloom quality" but we highly recommend a set like this one from Community/Oneida to use and enjoy everyday.
The set consists of
12 Dinner Forks
12 Salad/Dessert Forks
12 Soup Spoons
12 Dinner Knives
14 Teaspoons
6   Serving Spoons
2 Sugar Shells
1 Large Serving Fork
Measurements
Price (USD)
$ Price not available