Click to enlarge
Art Deco English Tea Set for Eight by Alfred Meakin
Item #2462 SOLD
This classic English tea service with modernist embellishment is by Alfred Meakin, one of the most prolific creators of china tableware with a long history of production dating from the 1830s. Using traditional forms  (this one is the classic "Astoria" shape) but adding some decorative element that is both geometric and "deco" was something unusual for this company in the early 1930s when it was produced. Although the vast majority of their designs were traditional and floral, this motif was something unique.
The set includes eight cups, saucers and cake (or lunch) plates along with a teapot, creamer, sugar bowl and two serving platters. It is all in excellent condition without chips or stains.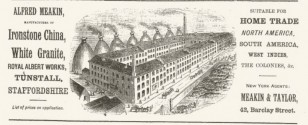 Alfred Meakin achieved great success with their patented " ironstone/ white granite " which was more durable than other china manufactured in England during this era and this made it possible for them to export it to North America, South America and the "colonies". The set we are offering was found in Argentina where the Meakin brand was popular and sold in the high end British shops of Buenos Aires including the famed Harrods Department Store.
There is nothing quite like a "proper cup of tea", steeped in a china pot, served with a large jug of milk and lumps of sugar.  And since this is the time honored "English Way", why not treat yourself to a set from England!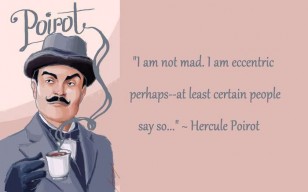 Measurements
1 teapot 6.5″ x 9.5 "
1 creamer 6″ x 6.5″ ( English milk jug size)
1 sugar bowl 4″ x 7″
8 cups 2.25″ x 4″
8 saucers 6″
8 dessert plates 7″
1 bowl 7″
2 cake dessert platters 9″ x 11″
Price (USD)
$ Price not available