Click to enlarge
Art Deco Silver Faceted Champagne Bucket
Item #2713 SOLD
A multifaceted Art Deco Champagne Cooler made in Argentina by Toledo Silver. Richly plated and in perfect condition inside and out. The substantial handles on the sides give it a nice presence.
The very name "Argentina" contains the word "Argent" which means silver, yet it is interesting  to note that so much of the silver found in that country is of French or German origin.  So it is great  to find something that exemplifies the craftsmanship and art deco point of view of things made in that country .
The poster image below is also from Argentina by the artist Achille Mauzan to promote Champagne
Salud!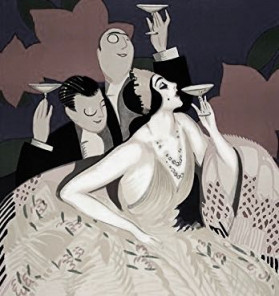 Measurements
8″ Tall
9″ Wide
Price (USD)
$ Price not available