Click to enlarge
French Art Deco Silver Tea and Coffee Set
Item #2365 SOLD
Complete French Art Deco Silverplate Tea and Coffee Set from the "Golden Age" of Buenos Aires when the city was one of the richest in the world and brimming with the artistic influence of Europe. There was a fashion for English High Tea, offered from a beautiful service like this. The graceful shapes are accented with engraved lines and embellished with ivoroid details.
Included in the set are a coffee pot, tea pot, cream and sugar set and a spacious oval tray with especially nice handles.
Markings on the bottom reference "Francia" (country of origin) and "Anezin Hermanos (brothers) " which were the exclusive importers of  decorative French  and German silver to Argentina in the early part of the 20th Century.  When the British department store Harrod's opened in Buenos Aires on Florida Street  in 1912, their housewares department sourced luxury goods from Anezin Hermanos.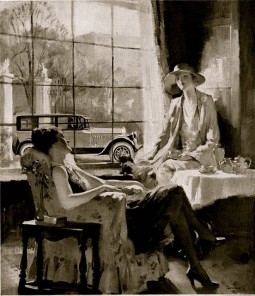 So wonderful to use a silver tea and coffee service ( liquids stay hot and flavors are retained ), but more than anything it simply  adds such a touch of old world glamour to your table or buffet !
Measurements
Tray 14" x 24"
Teapot 9" T x 6" W
Coffee 9" T x 7.5" W
Creamer 7.5 "T x 3.5"W
Sugar 6"T x 5.5″W
Price (USD)
$ Price not available