Click to enlarge
Christofle Flatware Art Nouveau Service for 12 in Original Oak Box
Item #2098 SOLD
This Christofle Silverware service for 12 in fitted wooden chest is the epitome of sophistication ! 127 glorious, lyrical pieces in the Moderne Gramont pattern, this very complete set was  designed by one of the most important contributors to the Jugendstil and Art  Nouveau Movements at the turn of the 20th Century.
Bruno Mohring was first and foremost an architect whose elaborate buildings and bridges can be found in Germany, France, Mexico and even at the  American 1904 St. Louis World's Fair. His "moderne" design for silver in 1902 was produced by the famous French Company  Cristofle Orfeverrie  of Paris.
The silverware is in wonderful condition, and all of it nestled in an antique golden oak storage chest with four drawers . The elaborate linings have been newly redone with individual compartments to house each piece. Brass hardware and a monogrammed silver emblem on the top of the wooden box are the finishing touches. The cutlery is not  monogrammed.
"Moderne Gramont" #5207  is an enduring form, pure "nouveau" and yet clean lined and reaching into what would become the future of flatware design.  A collection of pieces in this pattern is in the Musee D'Orsay in Paris and in the Klingen Museum in Solingen, Germany.
Included in this set  is everything you would ever need to set a perfect table!
Spoons:                                    Forks:                           Knives:
12 Table/Serving Spoons      12 Dinner  Forks         12 Dinner Knives
12 Soup Spoons                      12 Lunch Forks           12 Lunch Forks
12 Tea Spoons                         12 Fish Forks               12 Fish Knives
12 Demitasse Spoons
And oh those 7 serving  pieces!  A Serving Ladle, Carving Fork and Knife, Salad Fork and Spoon, very large Serving Spoon and the Gravy Ladle. 127 Pieces in Total
Here is the original catalogue page from 1902, from the highly regarded firm of Cristofle which was established in France in 1830 and has always been at the forefront of every era of design, including contemporary silver styles of today. Cristofle was especially noted for
its production in the Art Nouveau and Art Deco  periods.
Some detailed examples of Bruno Mohring's building design show the rich use of Jugendstil ornamentalism. Mohring was an urban planner, professor and architect as well as an artist and designer of jewelry and silver.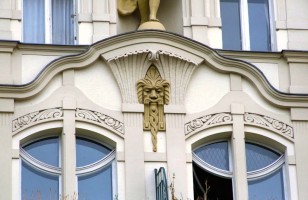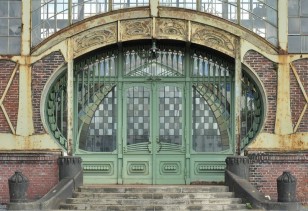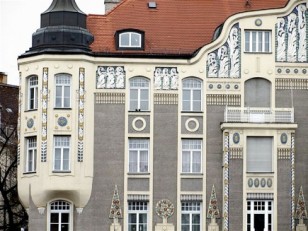 The German Pavilion at the St. Louis World's Fair of 1904
designed by Bruno Mohring
Measurements
Storage Chest is 20″ wide, 15″ deep and 13″ tall
with the doors open to reveal the inside" 39 " wide
Price (USD)
$ Price not available