Click to enlarge
Complete Art Deco Silverware Service by Christofle in Wooden Chest
Item #3430 SOLD
This set of  Christofle silverware in a complete service for 12 is nestled in a felt-lined fitted chest. This is the modernist "Palme" Pattern with 126 Pieces in all. Each piece is nestled in its own compartment with the six beautiful serving pieces displayed in the bottom of three individual drawers.  It was made in the 1930s and imported from France to Buenos Aires during the "Golden Age" when Argentina was a very wealthy country, bringing in luxury goods from Europe to sell in the fancy housewares shops that lined Florida Street. The chest in excellent original condition still bears the gold embossed logos of Christofle as well as the jewelry shop from which it was purchased, the "Casa de Furst" which initially was planned to be part of the Parisian Bon Marche located in Buenos Aires but instead became a jeweler and home decor boutique.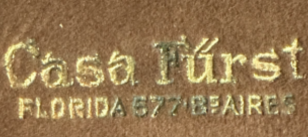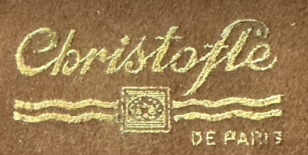 The "Palme" pattern was originally created for high-end hotels. It has a sleek and elegant look that works in a wide array of home decor styles
This makes an outstanding wedding gift or a treasure that will become an heirloom. We encourage polishing it just occasionally but using it often is the very best way to enjoy silverware. Keeping silver in a chest like this one will maintain it relatively tarnish-free.
Set Includes:
12 Dinner Forks
12 Dinner Knives
12 Fish Forks
12 Fish Knives
12 Luncheon Forks
12 Luncheon Knives
12 Dinner Spoons
12 Soup Spoons
12 Tea Spoons
12 Demitasse Spoons
Sugar tongs
Two Serving Forks
Serving Knife
Two Serving Spoons
Large Soup Ladle
Measurements
23.5 inches wide
16 inches deep
10.5 inches height
Price (USD)
$ Price not available