Click to enlarge
Art Deco Chrome Table Fan the Jack Frost by Knapp Monarch
Item #3416 SOLD
Chrome and Black Art Deco Electric Fan – the "Jack Frost" model by Knapp Monarch company.  The chrome detailing is especially bright and stylish on this example of mid-century fan design. Note the matching chromed plug and black cord that are unique details. This model is the "De Luxe" level and the original advertisement pictured below gives this description:
"As smart looking as your furniture,
praised everywhere for many superior features;
Chrome plating, a die-cast frame, and no radio interference.
Modernistically designed"
The electric fan was originally invented in 1886, but it was in the 1920s that it became popular as well as a decorative piece of home furnishing.  The "De Luxe Jack Frost" had a price tag of $15-$18 but to put that into perspective…an equivalent would be $380 in todays dollars.  Because the radio was such an important part of home life, many appliances promoted the fact that they were "quiet" and would not cause static and interference with the household radio!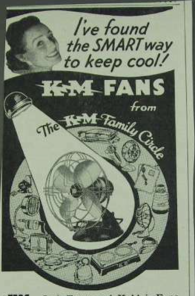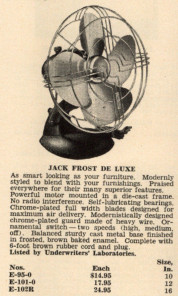 Measurements
10″ tall, 11″ wide, 6″ deep
Price (USD)
$ Price not available